If you're using OmniFocus 2 on an iOS device with Siri (iPhone 4S and later, iPad 3rd generation and later, all iPad Minis, and iPod Touch 5th generation), and you would like it to keep track of the reminders you give to Siri, all you need to do is check a few settings on your device and you can start adding spoken items to your Inbox in no time.
To set up OmniFocus 2 so it captures your reminders from Siri:
On your Siri-enabled device, drag down from near the top of the OmniFocus home screen to reveal the secret bar (on iPhone), or drag down on the home sidebar (iPad and iPhone 6 Plus) to reveal the secret bar.

Tap Settings in the secret bar.

In the Capture section, tap Reminders.

You'll see the Reminders screen. Tap Allow Access to Reminders to prompt OmniFocus to request access. If you've previously declined reminders access, tap "Open Settings" to enable this capability. Finally, turn on the Reminders Capture switch in the OmniFocus settings. If you have multiple Reminders lists set up, choose the list you want OmniFocus to capture from. (If you only have one reminders list, OmniFocus assumes that's the one you want).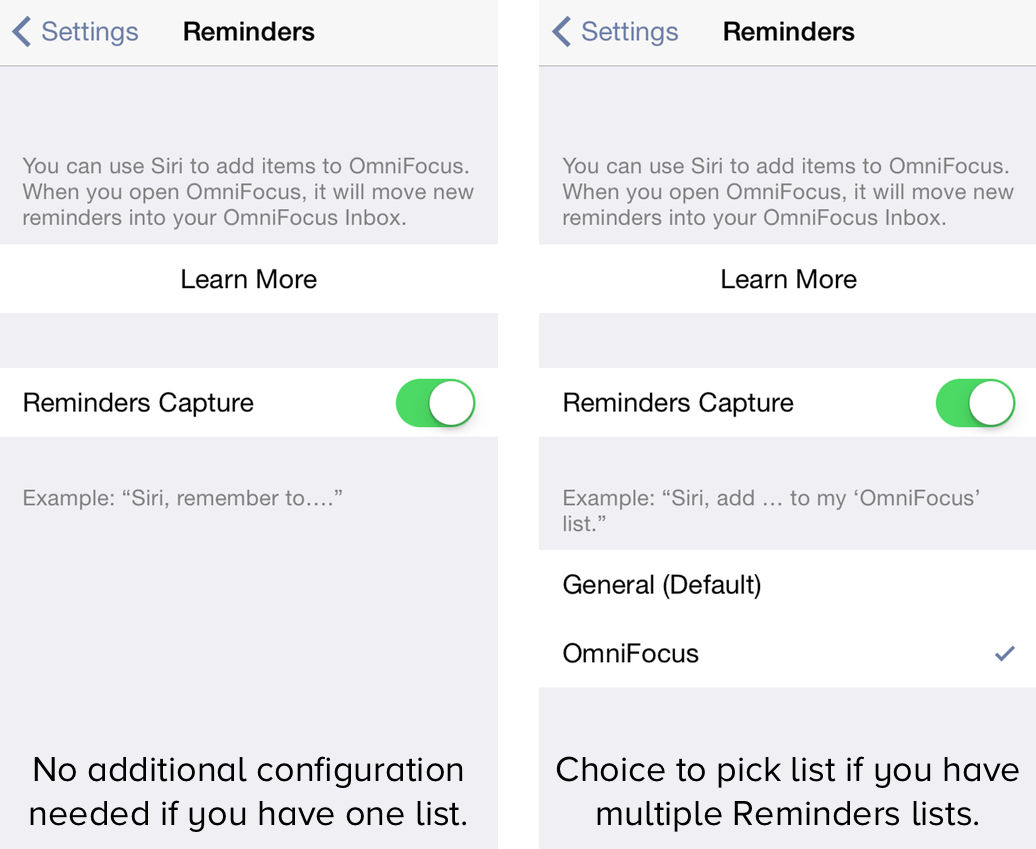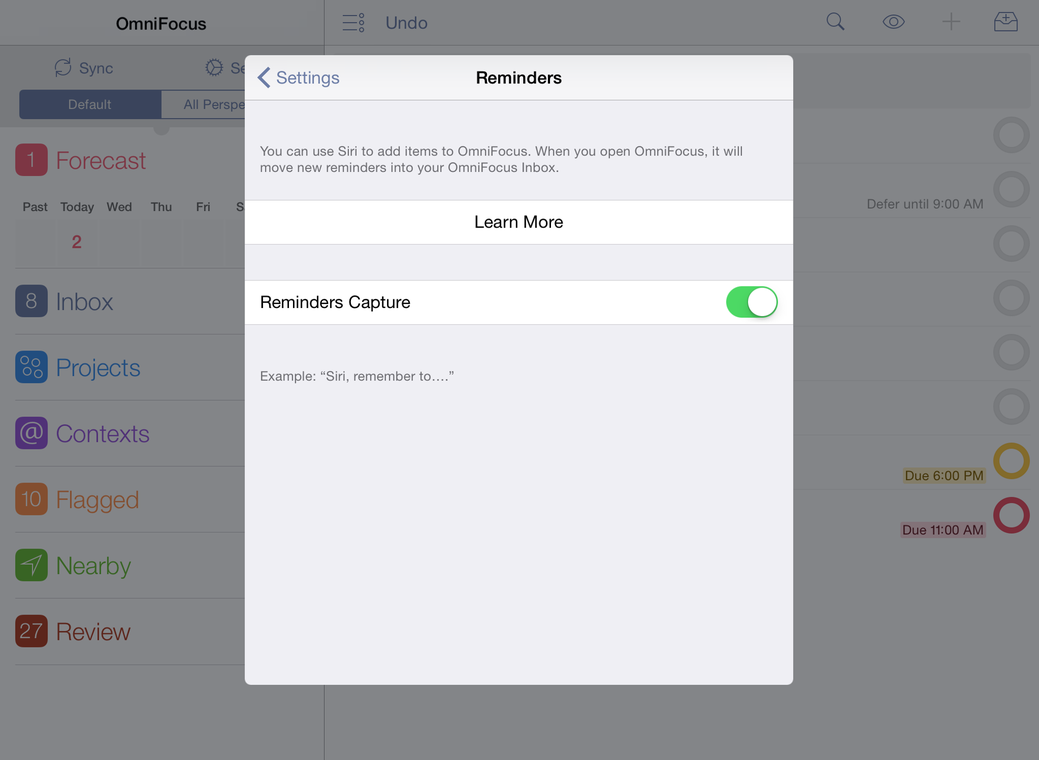 Warning: You should only configure Reminders Capture on a single iOS device. If you rely on iCloud to sync your reminders across devices and you have OmniFocus on iPad and iPhone, you could end up with duplicate entries in your Inbox.
To record a new Inbox item with Siri, try these phrases:
"Siri, remember to…" records a task to the system default Reminders list. OmniFocus grabs it from that list if it's the one you have chosen to capture.

"Siri, remind me to…at (date and time)" records a task to the default list, and assigns a due date.

In iOS 8, you can now use "remember to" and "remind me to" somewhat interchangeably. If you specify a time after either of these phrases, it will be assigned as a due date.

"Siri, remind me when I get to (or leave)…" records a task to the default list with a contact location attached. If you choose a specific location, make sure it matches an OmniFocus context location.
Note: Use the small dot distance (200 meters/650 feet) if you would like OmniFocus to capture Siri-transcribed actions associated with that location.
"Add … to my OmniFocus list" records a task to a list named OmniFocus if you have one set up in Reminders. OmniFocus captures the task if that's the list you've chosen.

Replace OmniFocus with the name of whatever list you'd prefer!
When OmniFocus captures a Reminder, it removes the item from the Reminders so that there's no confusion about where it belongs. To keep your data safe, there are some Reminders items that OmniFocus will not claim. (Reminders will retain ownership of the data and it will not be lost.) These are items that have data beyond what OmniFocus can track, such as contact locations outside the set of small-size OmniFocus context radii you have established.
For this reason, the location-based aspects of capture are most effective when you tailor the locations of your OmniFocus contexts as closely as possible to your location-based Reminders contacts.
Last Modified: Sep 4, 2015