OmniFocus Extended
With extensions in OS X, there are a bunch of ways you can interact with OmniFocus while you're doing other things on your Mac.
Sharing
As an alternative to Clippings or Quick Entry, you can use the Share Menu in apps that support it (such as Safari) to share content with OmniFocus.
To add OmniFocus to the share menu of other apps that support the OS X share extension, visit Extensions in the System Preferences app and click the check box next to OmniFocus in the Share Menu extension. To make OmniFocus more visible, drag to rearrange it above other apps in the menu.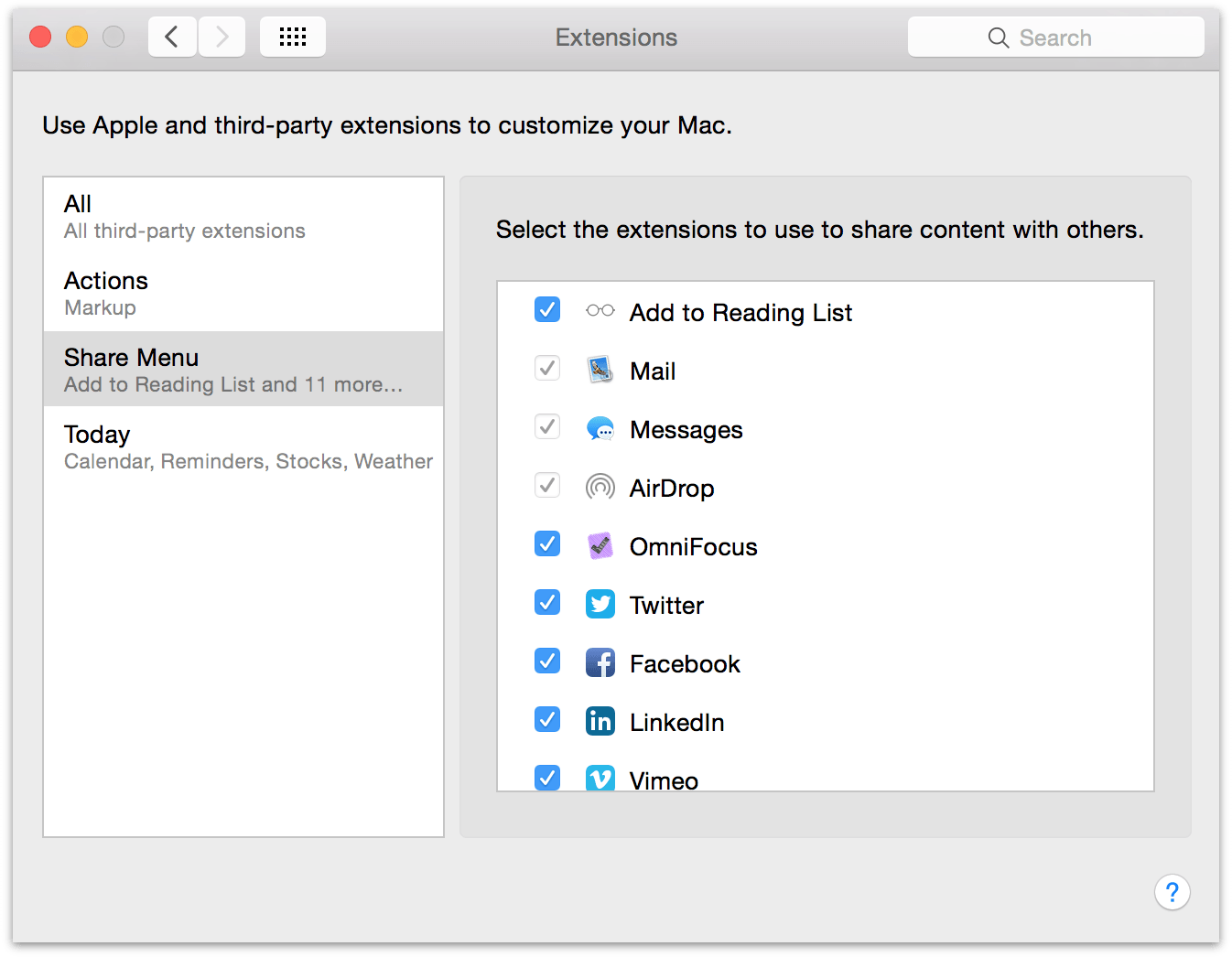 Tip
OmniFocus supports sharing with other apps, too. With content selected in the main outline, click Share in the toolbar to send the desired items to a destination app.
Today Extension
You'll see the OmniFocus Today extension listed in the Extensions section of System Preferences as well.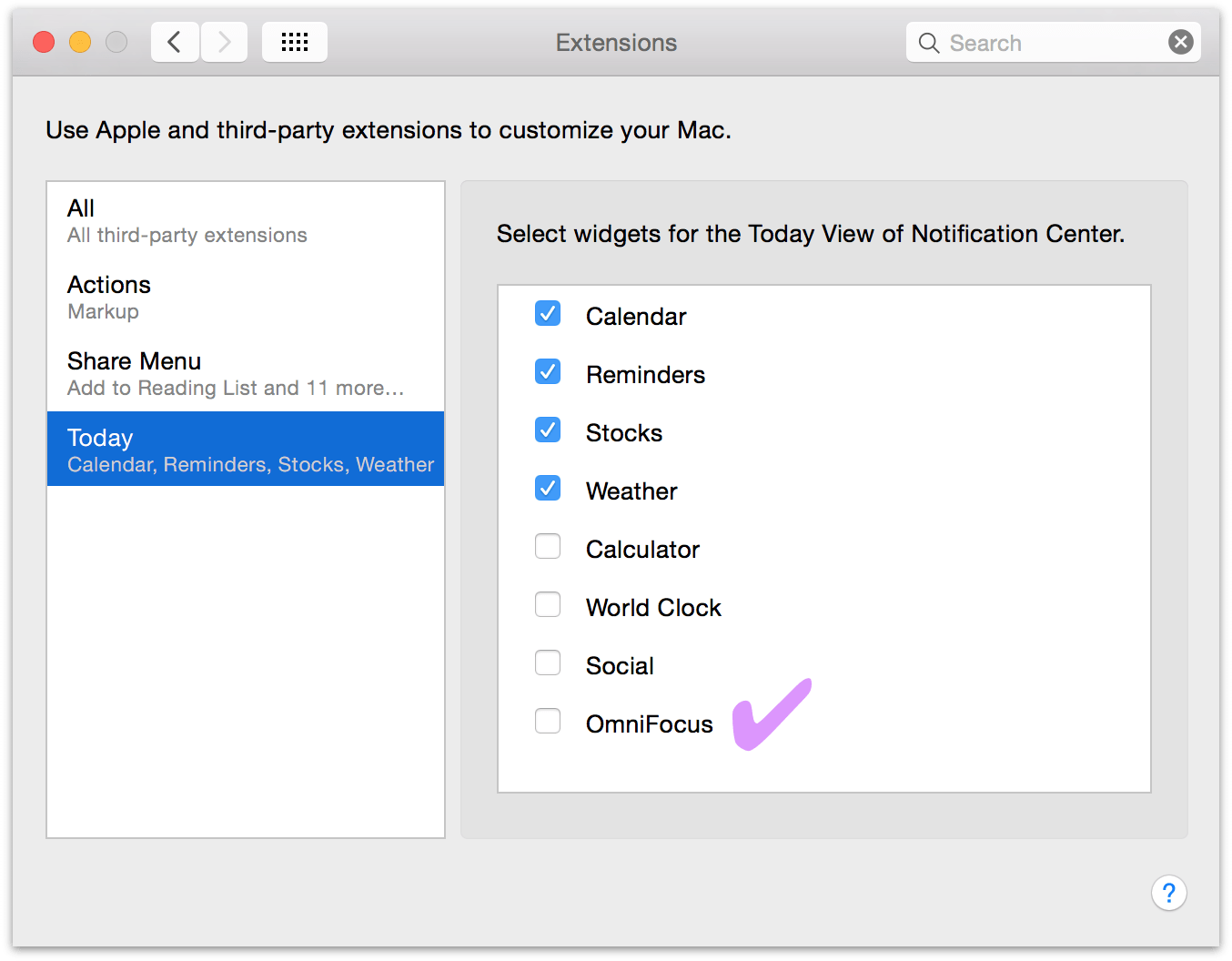 With the Today extension enabled, you can view items that are due soon and overdue at a glance in Notification Center, and when they're complete, check them off right there — the items' status updates in the app along with any changes you make.
Choose the items shown in the Today extension with OmniFocus's Notification Preferences.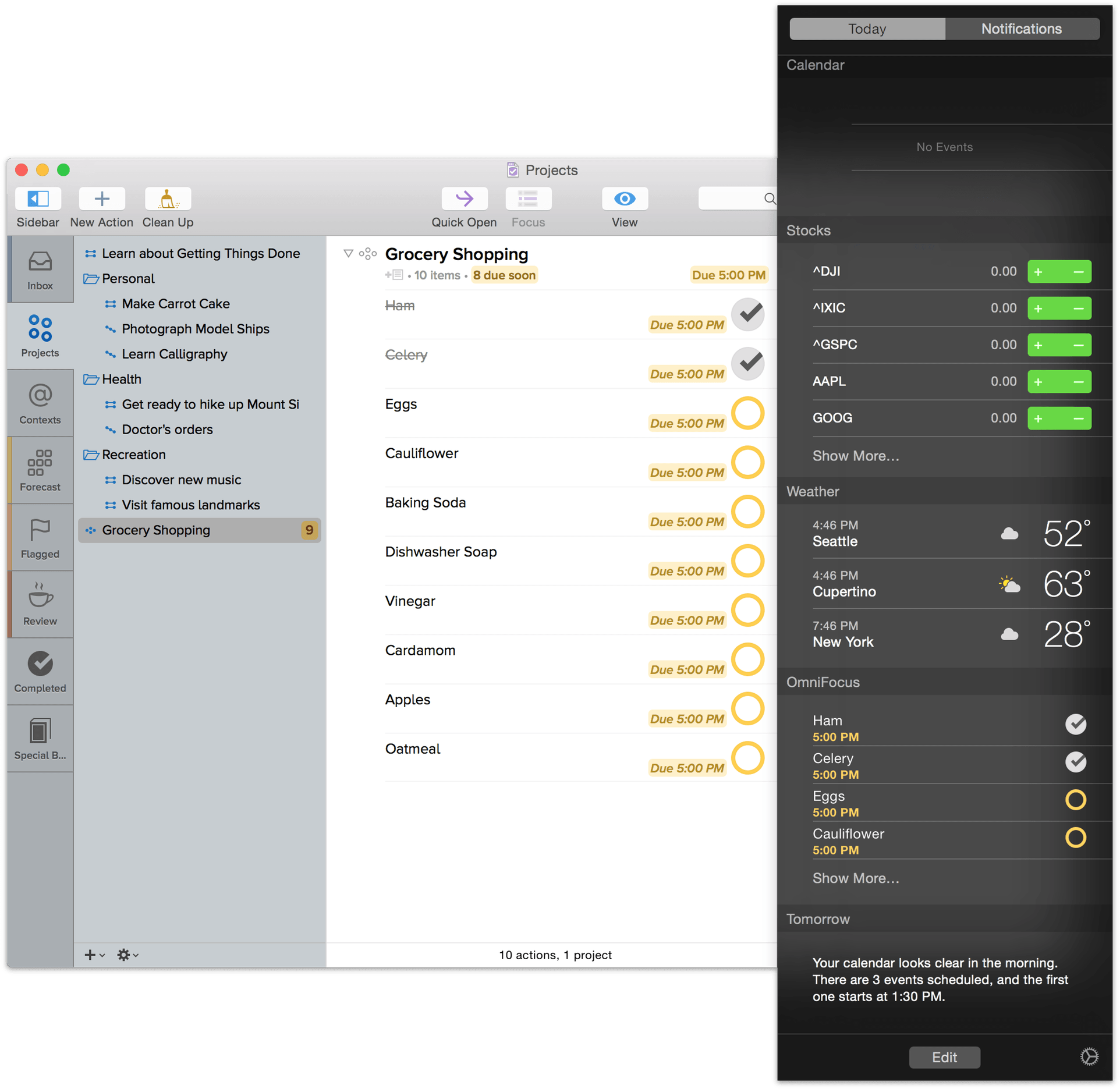 Tip
Click Edit at the bottom of the Today pane of Notification Center to change the position of the OmniFocus widget in the column, and to add or remove other Today widgets.
Interactive Notifications
For things that really need your attention, you can add a bit more oomph to your notifications by requiring an interaction when they appear.
To set up interactive notifications, first visit OmniFocus Preferences and be sure that Show Reminders As Notifications is checked. Next, open Notifications in System Preferences and choose OmniFocus. Select Alerts as the type of notification you'd like to receive.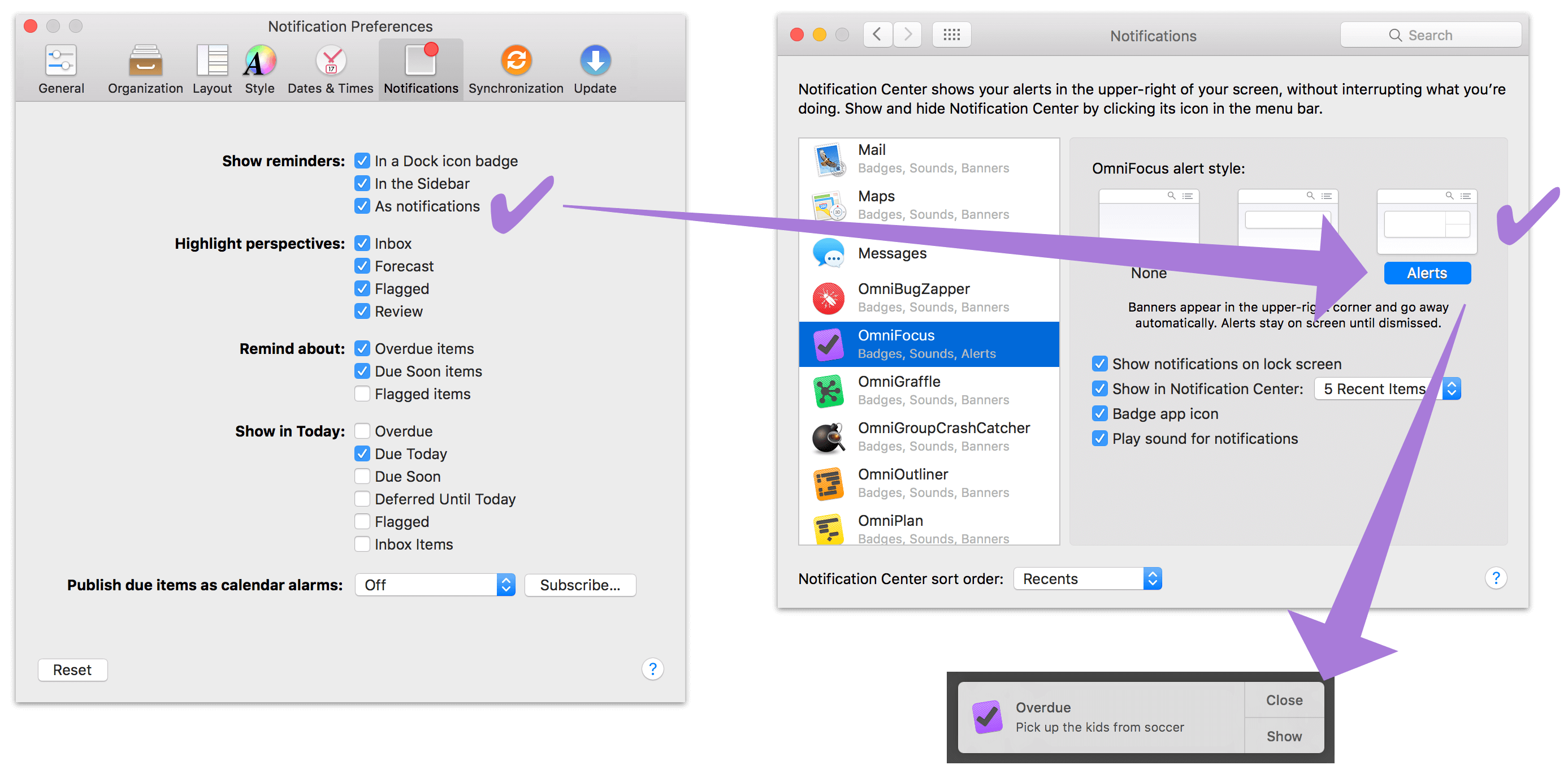 From now on, OmniFocus notifications you receive on your Mac will remain on screen until dismissed. You'll have two options when dismissing the alert: to simply close it, or to show the location of the relevant item in OmniFocus. If you choose to show the item, it'll be summoned in your currently active OmniFocus window (OmniFocus will launch if it was closed at the time).
Copy as TaskPaper
Most aspects of an OmniFocus item can be represented as tags in the plain text syntax used by Hog Bay Software's to-do list app TaskPaper. The Edit ▸ Copy as TaskPaper menu item provides an easy way to bring items—and their properties, such as due date, context, or repeat type—from OmniFocus to any other app that supports the TaskPaper tag syntax.
OmniFocus also supports pasting plain text lists formatted in TaskPaper syntax into the open window of an OmniFocus database. So while Copy as TaskPaper can be used to share OmniFocus items with TaskPaper itself, its primary use is as an intermediary between OmniFocus and other apps that support TaskPaper's tag system.
This can be used to (for example) batch process dozens or hundreds of OmniFocus items at once, round-tripping them out from OmniFocus in the TaskPaper syntax, performing the batch processing actions, and bringing them back to OmniFocus without loss of important metadata.
OmniFocus uses the following tags to represent item attributes when copied into the TaskPaper format:
@autodone (boolean)

Indicates whether the item automatically completes itself when its children are complete.

@context (string)

The context assigned to the item, if any.

@defer (date)

The date until which the item is deferred, e.g. 2016-04-19 5pm or next Thursday -3d.

@done (date)

The date on which the item was completed.

@due (date)

The date on which the item is due.

@estimate (time span)

The estimated time needed to complete the task, e.g. 2h for 2 hours or 3w for 3 weeks.

@flagged

Denotes flagged status if the item is flagged.

@parallel (boolean)

Indicates whether the item's children are parallel (true) or sequential (false).

@repeat-method (method)

If the item is repeating, indicates the repeat method: fixed, start-after-completion, or due-after-completion.

@repeat-rule (rule)

An iCalendar spec (ICS) repeat rule, e.g. FREQ=WEEKLY;INTERVAL=1.