Subscribing to OmniFocus gives you the option to pay monthly or yearly for a package that includes OmniFocus Pro for Mac, iOS, and the Web.
In the near future you will be able to subscribe to OmniFocus for the Web as a standalone add-on if you already own OmniFocus for iOS or OmniFocus for Mac. This article will be updated when the Web-only subscription is available.
Currently, subscribing to OmniFocus Pro is done through OmniFocus for iOS as an in-app purchase (subscription and billing are handled by the iOS App Store).
Once subscribed, your Omni Account tracks your subscription so that you don't accidentally subscribe twice.
Getting Subscribed
Subscriptions are available in OmniFocus 3.2 for iOS or later. Check the App Store to make sure you've updated OmniFocus to at least version 3.2 before starting these steps.
To get started with a subscription to OmniFocus Pro, download OmniFocus for iOS. The first time you launch the app, you can choose to Try or Buy—because all OmniFocus subscriptions begin with a free two week trial, the choice in this case is the same either way.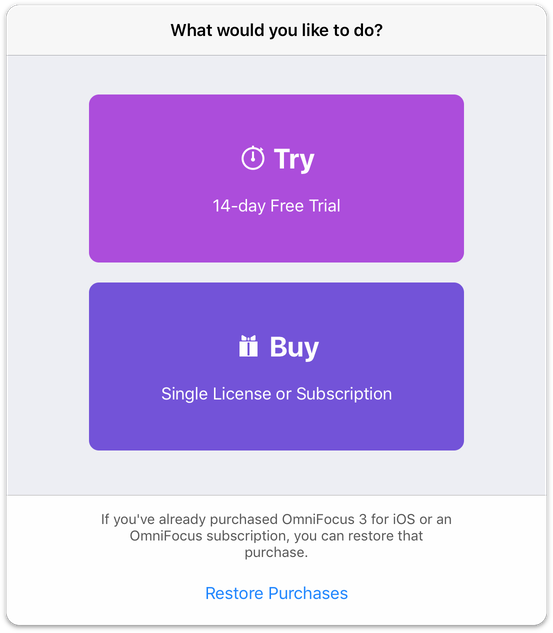 If you already have OmniFocus for iOS installed, head to Settings > In-App Purchases to begin the subscription process instead.
When you're prompted to choose OmniFocus 3 for iOS or OmniFocus Subscription, choose OmniFocus Subscription.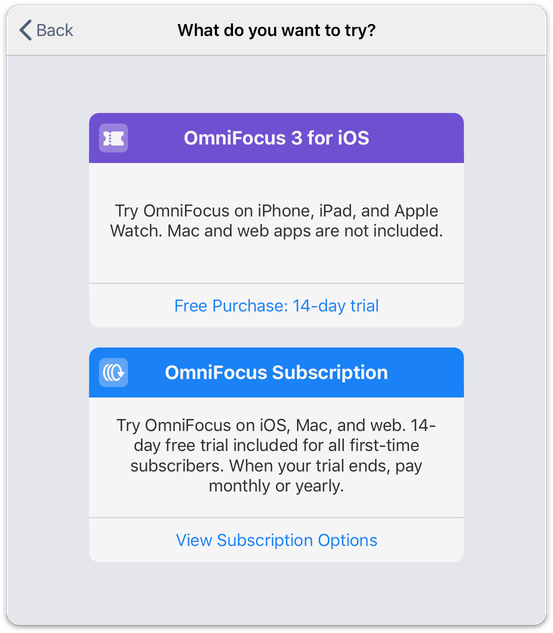 Continuing through the setup process, you'll have the option for your subscription to be billed either monthly or yearly. Billing begins at the end of the two week trial.
Omni Accounts
When you've chosen which subscription and billing option you'd like, tap Subscribe Now. You'll be prompted to sign in to your Omni Account, or create a new one.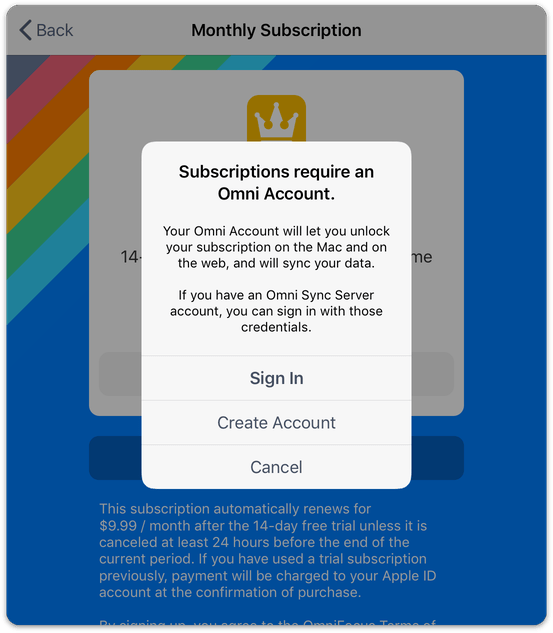 If you already sync OmniFocus using the Omni Sync Server, use your sync server username and password to sign into your Omni Account.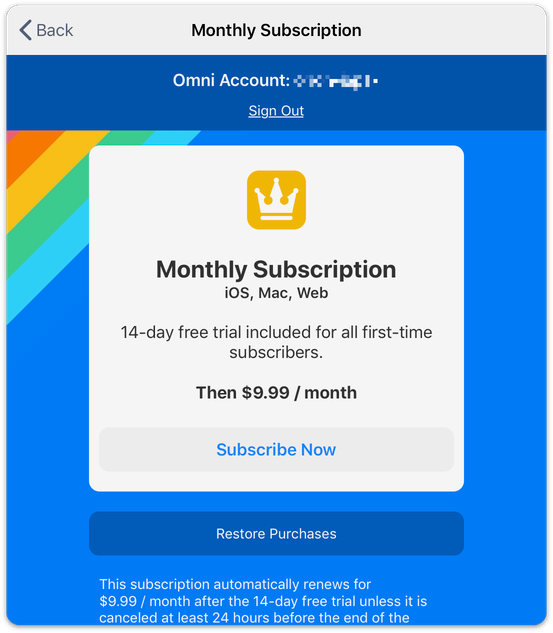 After you finish signing in to your Omni Account, OmniFocus asks if you'd still like to subscribe, and if so you'll see the App Store purchase interface. Once you've purchased, you'll either continue with the first run experience or return to Settings, depending on where you came from.
Managing or Cancelling Your Subscription
You can manage your OmniFocus subscription via the central iTunes subscription management page. This page is also accessible via the Omni Account and In-App Purchase sections of OmniFocus Settings.
The subscription management page shows the date on which your subscription will renew. You must cancel your subscription at least 24 hours before this date to avoid being charged. If you start a subscription with a free trial, the first renewal date will be two weeks after your subscription begins.
Last Modified: May 8, 2019