Introduction
Welcome to OmniPlan 2.4!
Thanks for taking the next big leap in advancement on your path to being an awesome project manager. OmniPlan 2.4 is packed with a ton of great goodies, including a comprehensive refresh of our support for Microsoft Project import and export — there's never been a better time to dive right in.
The app you're about to explore brings the power of a comprehensive suite of project management tools to your fingertips. Use customizable task and resource outlines to visualize, maintain, and simplify your projects. Break down tasks, optimize the required resources, control costs, and monitor your plan — all at a glance. Collaborate with your colleagues and share every detail, accept and reject changes, and set up custom calendar schedules for the entire team. OmniPlan provides features like Gantt charts, summaries, milestones, and critical path highlighting to help you stay on top of all your activities — resulting in projects that are simple to understand, regardless of their complexity.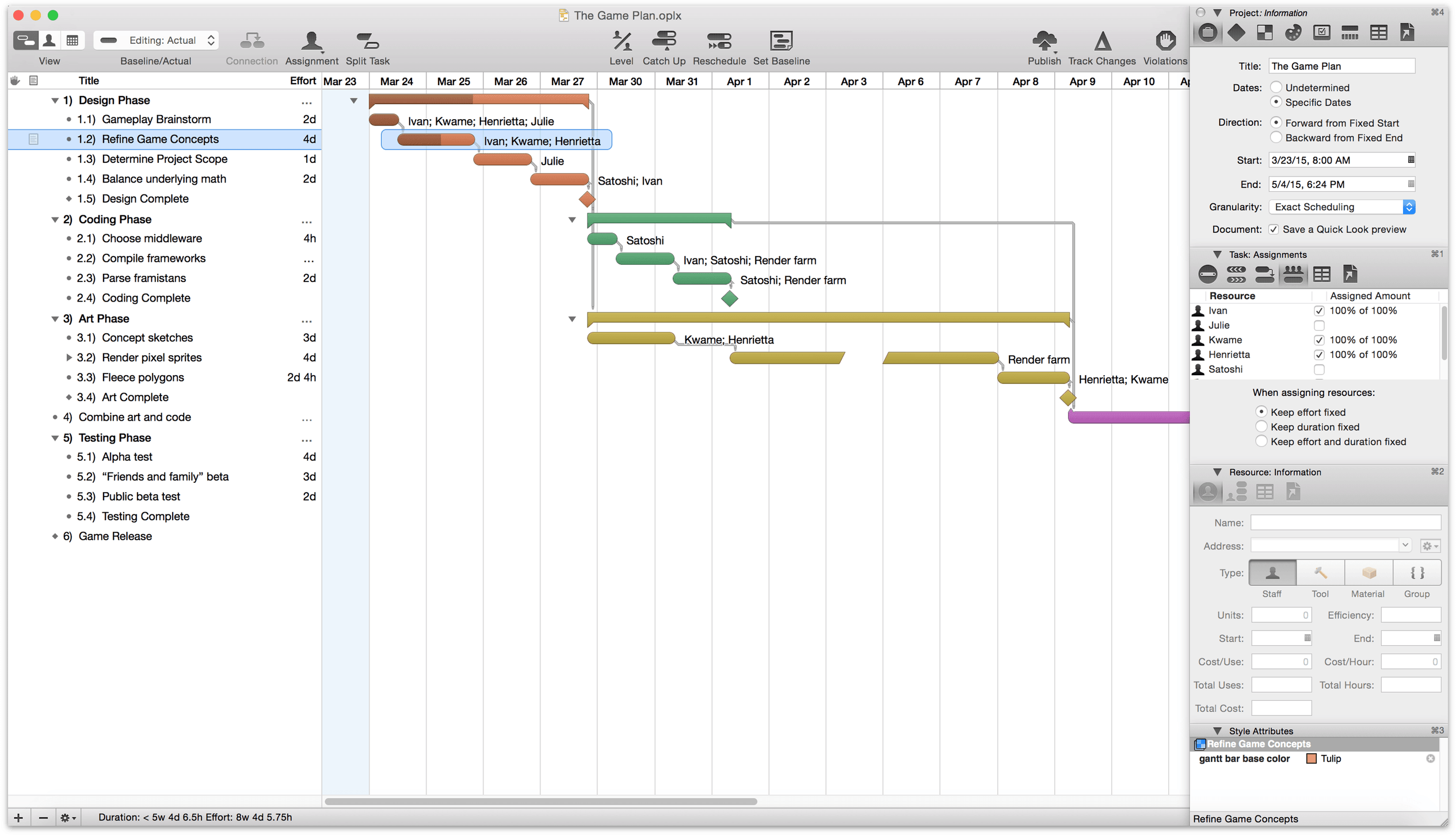 OmniPlan 2.4 includes updates throughout the app, bringing you an even better OmniPlan experience. Support for the Microsoft Project 2013 format is now available for the first time on Mac. The in-app help is updated to a new look and feel, and is now available in eBook and online searchable formats. Performance in OS X Yosemite has been improved to handle your biggest projects even more effortlessly. As you go through your workday with OmniPlan you'll notice that, in dozens of little ways, the app is ready to work better right along beside you.
Created with love,
The Omni Group
How This Documentation is Organized
This manual that you have before you (either in OmniPlan itself, online, or in iBooks on your Mac or iOS device—or both) has been assembled in such a way that you're provided with a complete tour of OmniPlan.
You'll start out with an overview of OmniPlan's interface. Don't skip over this chapter, as you'll find many nuggets of information and fine details about OmniPlan that you might otherwise miss. And, if you do decide to skip this chapter and later find yourself wondering, "Hey, what's that doohickey do?", you can always come back here to discover what it's all about.
To help guide you through the documentation and better learn all the things you need to know about OmniPlan, here's a list of all of the chapters in this book:
The first chapter dives right in and gives you a top-down overview of OmniPlan's user interface. You'll learn about the Task, Resource, and Calendar views, the Toolbar, and, of course, the Inspectors. Nothing too deep; just the basics to get you rolling.
If you're eager to get your first OmniPlan project up and running, this is the place to start. The tutorial guides you through the process of setting up and maintaining a project, from creating your first task to reaching the last milestone. After you've worked through it you'll have the tools you need to build your own project from the ground up.
Understanding tasks and the relationships between them is key to using OmniPlan to the fullest. In this chapter you'll learn — in detail — how to get OmniPlan to model the work you need to accomplish so you can monitor and update its progress with confidence, including sections on task groups, hammock tasks, mastery of the Gantt chart, and a deep dive into the task inspectors.
If tasks are the building blocks of a project, resources are its lifeblood. Accurately assessing and organizing your resources will help your project run at peak efficiency, and this chapter delves into how OmniPlan can help you do just that with sections on resource groups, project tracking in the resource view timeline, the resource inspectors, and the concepts of duration and effort.
Tasks and resources are united in the calendar view, where schedules can be set for every aspect of the project to make sure goals are met on time. Establishing the working hours for your project, and universal and individual exceptions to them, are covered in detail here.
OmniPlan includes powerful tools for getting your project set up to suit both the way you work, and the facts on the ground. In this chapter you'll find details on customizing units of time and money, adding notes and custom data to tasks and resources, establishing a unique style for your project that shows your data exactly where and how you want it, and setting up templates to quickly reuse settings common to your projects.
After your project is up and running, OmniPlan helps you keep it carefully tended — like a bonsai tree — to help it mature into its final form. When unexpected circumstances arise, adjusting the project will keep it shepherded toward the goal. This chapter explains violations, scheduling and leveling, establishing and working with baseline schedules, catching up and rescheduling tasks, and sharing resources across projects by publishing and subscribing to a server repository.
While OmniPlan works great as a standalone project management app, you can always take advantage of its flexible import and export options and other features to collaborate outside the box. In this chapter you'll find details on importing and exporting to other formats, customizable printing options, using HTML templates to export, accessing items by URL from outside the app, and of course, Microsoft Project support.
This chapter covers a variety of customization options to get OmniPlan working the best for you. Within OmniPlan Preferences you'll find custom controls for data entry, display of times and dates, document and HTML template management, server repository account settings (including a quick-start guide for getting synced to an existing server repository), and options for when and how OmniPlan should check for updates to itself.
The glossary contains an alphabetical list of special terms you'll encounter throughout the app, this documentation, and other project management resources you might be familiar with. If you're just starting out in project management or you're curious about how OmniPlan implements certain concepts, this is a great chapter to check.
For the most part, you should never have to worry about your Omni license, particularly if you've purchased OmniPlan from the Mac App Store. If you purchased OmniPlan from our website, however, you need to enter specific information from the license email you received from us.

This brief chapter walks you through the process of adding your license info in OmniPlan, shows you how to remove a license, and even tells you where we "hide" the license on your Mac just in case you ever need to send that to us or transfer it to that brand new Mac you've purchased.

There's no shame in admitting that you need help. In fact, that's what we're here for. If you ever get stuck when working on something in OmniPlan, or if you have a problem with the app's license, or you just want to tell our Support Humans and the DocWranglers what an awesome job they're doing, feel free to get in touch. This chapter points you to all of the resources we have available: Support Humans, Support Articles, Videos, and Documentation.
Tip
If you're currently using other versions of OmniPlan (iOS or earlier Mac versions) and want to get up to speed as quickly as possible with projects already in progress, see the Accounts Preferences section of the manual for a quick start guide to getting synced.
Using This Book
One of the beauties of having OmniPlan's documentation available in electronic form is that it's always available whenever you need it. We have built the documentation right into the Help menu. We have put all of the documentation on our website where it can be searched and bookmarked. And we're continuing the ongoing trend of creating EPUB versions of the docs and making them freely available on the iBooks Store.
Tell Us What You Think
We're constantly working on updates for our documentation. Whether it's CSS work, correcting the occasional typo (yeah, they do sometimes slip through), or adding details or clarification for a specific feature based on something we've heard from a customer, we're always trying to make our documentation better and more useful for you.
If you have any specific comments you'd like to send us about the documentation, please do. You can drop us an email message via our Support queue, or you can ping us on Twitter; we're @OmniWranglers.
Finally, we'd like to thank you for taking the time to read the docs.