Update: This help article was written with regards to the initial release of OmniFocus 3 in 2018. OmniFocus 3.4 for Mac and OmniFocus 3.3 for iOS add the ability to drop individual actions, which requires migrating to a new database format. This database format is not compatible with OmniFocus 2. Do not migrate your database if you need to sync with OmniFocus 2.
If you use OmniFocus 2 for Mac or iOS and are thinking of trying out OmniFocus 3 on either platform, you may be wondering how the new features in OmniFocus 3 work with OmniFocus 2.
In summary:
The latest versions of OmniFocus 2 for Mac and iOS work with both versions of OmniFocus 3, but some new features are hidden or handled differently.
As long as you are using OmniFocus 2 for Mac version 2.12.2 or later or OmniFocus 2 for iOS version 2.22.3 or later, content that relies on the new features of OmniFocus 3 is preserved when syncing with OmniFocus 2. If you're using an earlier version, you'll see a note indicating that the database format is incompatible.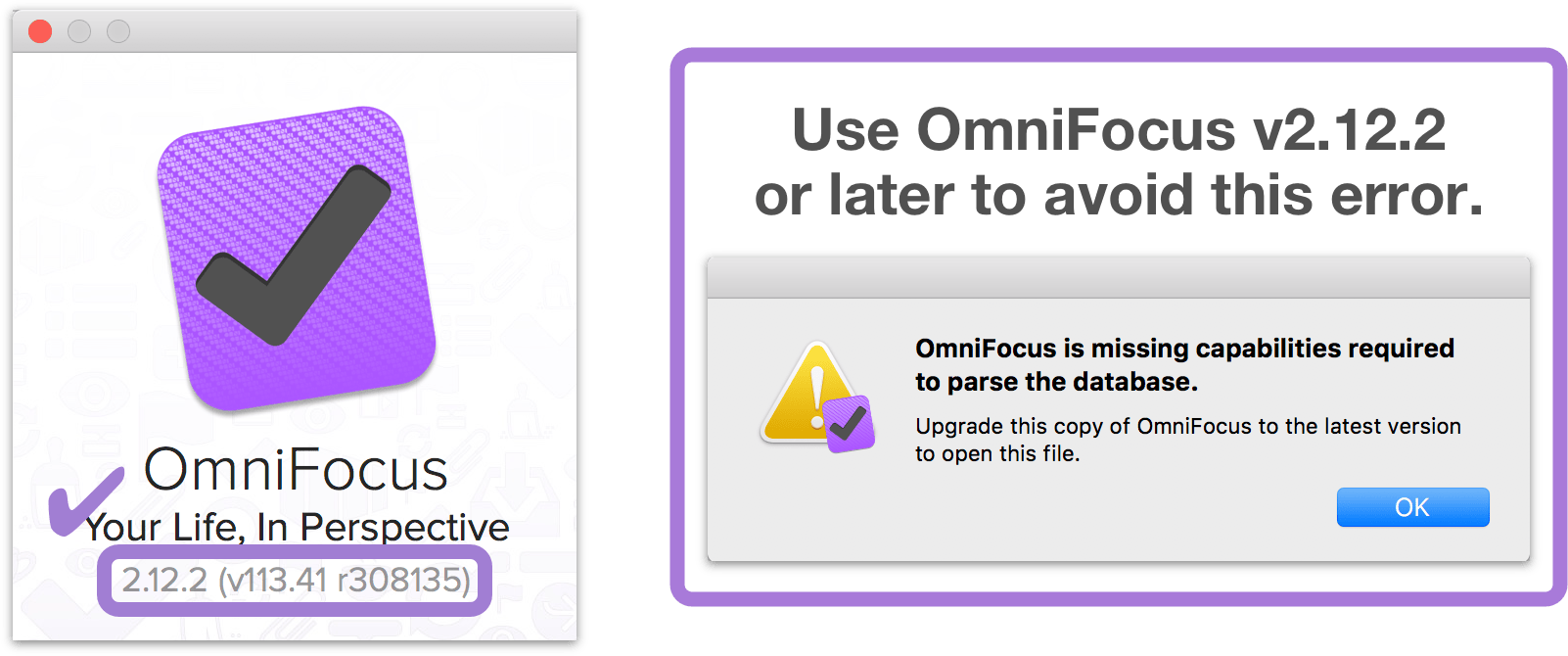 To check your version of OmniFocus for Mac, choose OmniFocus > About OmniFocus and look for the version number beneath the OmniFocus app icon. You can download the latest version of OmniFocus for Mac here if you purchased from the Omni Group website, or here from the Mac App Store.

To check your version of OmniFocus for iOS, Open the app and navigate to Settings (drag down on the Home screen, then tap the Gear button in the toolbar). The app version number is listed at the very bottom of the Settings screen.
OmniFocus 3 has four main features that differ from OmniFocus 2: contexts (now tags), a new custom perspective format, and new systems for setting up repeating items and custom notifications.
You'll find details on how OmniFocus 2 handles these differences below.
Contexts and Tags
Contexts in OmniFocus 2 are replaced by tags in OmniFocus 3. Tags are everything that contexts were, and more: you can use them exactly the way you used contexts in OmniFocus 2, or explore new possibilities by assigning multiple tags to a project or action item.
Since OmniFocus 2 only understands a single context per item, when you assign multiple tags to an item in OmniFocus 3 a compromise is made: The first tag on the item is displayed as its context in OmniFocus 2. All other tags on the item are preserved, but hidden from view.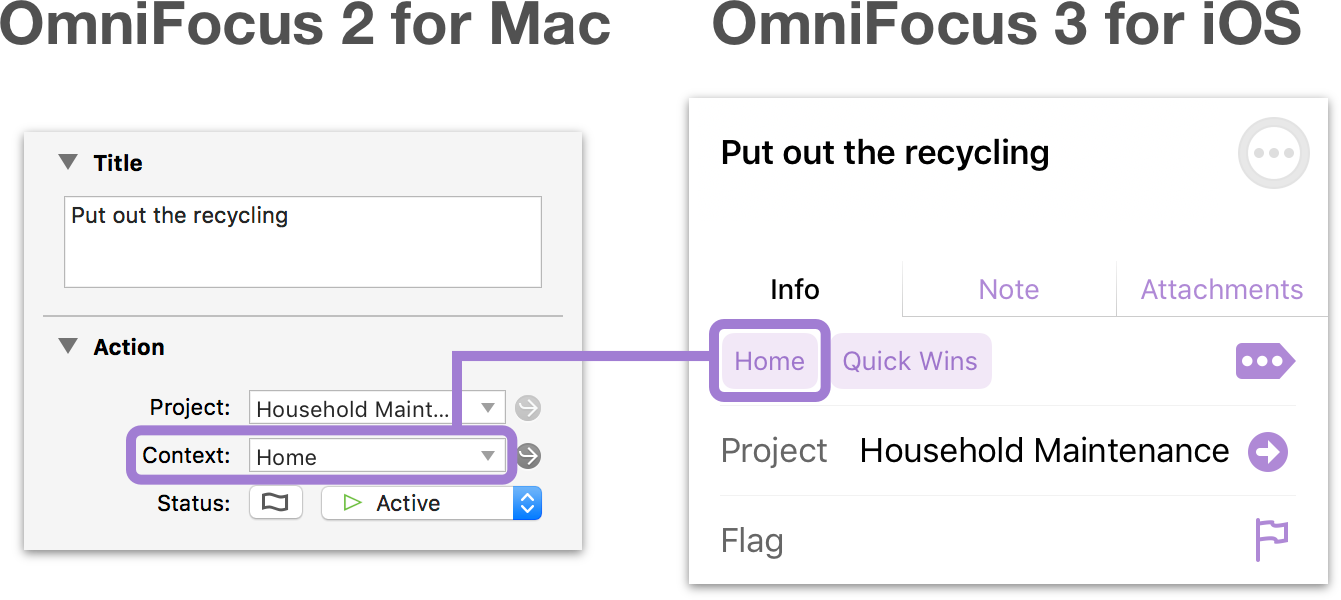 This has a few implications for subsequent edits to the item:
If you reorder the item's tags in OmniFocus 3, the new first tag becomes the item's new context.

If you change the item's context in OmniFocus 2, it becomes the new first tag on the item. The existing first tag is removed and replaced.

If you remove the item's context in OmniFocus 2, all of its tags are removed.
To retain all of the tags on an item, do not change its context in OmniFocus 2.
Custom Perspectives (Pro)
OmniFocus 3 Pro brings a revamped perspective editor with tools for building powerful new types of custom perspective rules.
Custom perspectives created or upgraded using the new editor are synced along with your database, but do not appear in OmniFocus 2.

Custom perspectives created in OmniFocus 2 sync with OmniFocus 3 and can be viewed and edited there. Edits made to these perspectives in OmniFocus 3 likewise sync between versions.
When editing a custom perspective in OmniFocus 3, there is an option at the bottom of the editor to either Upgrade or Downgrade the perspective. This is a lossy conversion that attempts to retain as much of the original rule set as possible, and can be used either upgrade OmniFocus 2 perspectives for refinement with the OmniFocus 3 rules, or downgrade OmniFocus 3 perspectives so they appear in OmniFocus 2 clients.
Repeating Items
OmniFocus 3 introduces a new system for setting up custom repeat intervals on recurring actions. Since there are a wider variety of options than in OmniFocus 2, the interface there does not display and cannot edit repeat rules created in OmniFocus 3. However, OmniFocus 2 understands the underlying logic of these repeats and reschedules completed items accurately.
OmniFocus 3 understands and displays all repeat rules created in OmniFocus 2.
Custom Notifications
OmniFocus 3 adds the ability to set up custom notifications on individual items, and choose when notifications are created automatically for items with due or defer dates.
As a rule of thumb, notifications are handled separately between OmniFocus 2 for Mac and OmniFocus 3 for iOS.
Any notifications you have set up in OmniFocus 2 will continue to behave exactly as they always have, and any new notifications you set up in OmniFocus 3 will behave there the way you expect. Neither will affect or overwrite the other.
Last Modified: Jan 29, 2020