Settings
From the Locations Screen or the Document Browser, tap the app menu (

), and then choose Settings to set the following options for working with OmniGraffle: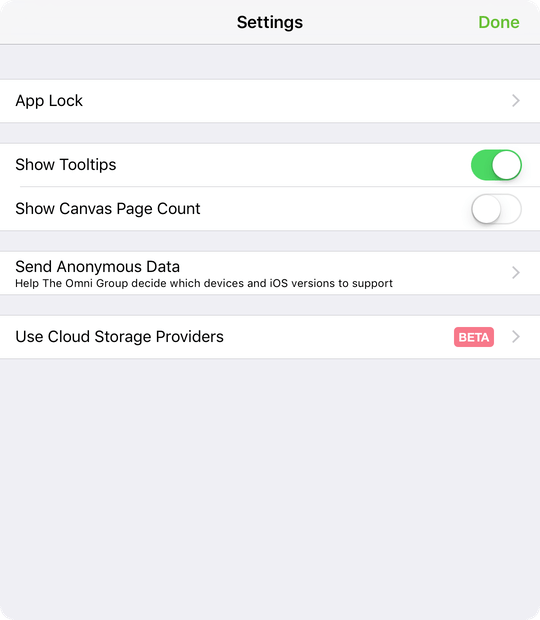 App Lock
If you use OmniGraffle on a device that you occasionally share (with your children, coworkers, or clients, for example), there may be times when you would prefer that your OmniGraffle documents remain out of reach. The App Lock feature prevents accidental taps and casual glances by adding a password-locked privacy screen that must be dismissed before any of your documents or settings can be accessed.
App Lock does not encrypt your data, and does not prevent someone with access to your device from connecting it to iTunes and copying your files, or deleting OmniGraffle from your device outright.
App Lock is intended as a privacy feature to prevent accidental exposure or corruption of data when others are using your device. It is not mant to thwart serious attempts to access or compromise your data.
Device-level security measures are recommended for those with additional security needs.
Show Tooltips
With Tooltips enabled, OmniGraffle presents a brief pop-up of explanatory text to describe the interface element or tool you have selected.
Show Canvas Page Count
When enabled, OmniGraffle displays the number of printable pages on a per-canvas basis, in the app's Sidebar.
Send Anonymous Data
Help us help you; turning on the Send Anonymous Data option provides Omni with anonymous information about the platforms on which OmniGraffle is being used.
Use Cloud Storage Providers
If you prefer to store your OmniGraffle files in the cloud, turn on this option so you can open and work on files saved to iCloud Drive.